Q & A with Artil [Mind+, KS]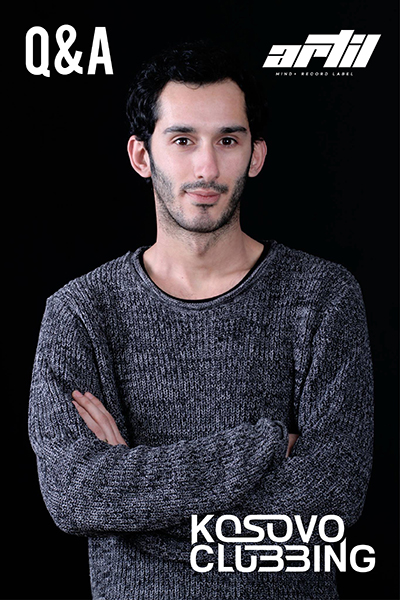 Hi Artil, thank you for your time, for the interview. Can you give us a short introduction to you & Mind+ ?

A: Thank you for inviting me to interview. I found out about electronic music in the early 2000s. For the first time, the electronic-undergound music here, was brought from USA by Baton Domi, who used to be my electronic music lecturer. After a long time, I became interested in producing. In 2014, I launched my own record label (Mind + Records) mainly focused on house & techno music, influenced by deep, dark & minimal. Mind + Records, it's also meant to be a booking agency for DJ's / Artists. Mind + releases, can be found at all digital stores, like: Beatport, Juno Download, Trackitdown, Itunes, Soundcloud etc.

Your recent releases, on: Mind+, Night and Day Ibiza Music, Patent Skillz, Mask Records, Little Italy Music, were satisfying and unique. What motivates you ?
A: My motivation is always linked with my emotional & spiritual state. While producing these tracks, i did a journey of self-discovery, which made me get into deep music & know some different sides of myself.

You've played among many world-known artists, like: Emanuel Satie, Butch, Timo Mass, And.ID, Laura Jones, Rodriguez Jr, to name a few. What was your favourite gig ?
A: Except above mentioned artists, I also played along: Eddie Richards, Mihai Popoviciu, Pig & Dan, Martin Landsky etc, but the gig that i would highlight, is the one i had w/ Rodriguez Jr., at Përralla festival.

What was your favorite collab ?
A: My favourite collab, is the track i co-produced with Megan, called "Sleeping Alone"

What equipment are you currently using, for DJing and Producing ?
A: My DJ setup includes: Traktor Scratch, Audio 4 DJ, Traktor Kontrol X1 MK2 & Pioneer CDJ.
My studio setup includes: M-Audio Advanced 25-Key Semi-Wheighted USB Midi Controller, Focusrite Scarlett 2i2, KRK Rokit 6, Macbook Pro & soon, I will add: Korg Volca Keys.

What's your favourite track to play at your gigs ?
A: Gel Abril - Carpet Sneak

At the moment, at which artists are you keeping an eye on ?
A: Radio Slave, Loco Dice, Lee Burridge and Steve Bug.

What can we expect from you in the future ?
A: At the moment, i'm focused on finishing some new projects.

What's your message to your fans / clubbers ?
A: The electronic music scene, here, needs: journalists, managers, promoters & electronic music fans that would contribute in the development of the electronic music scene, here.


by Kosovo Clubbing