Q&A - Megan [TMM Records, Mind + Records, KS]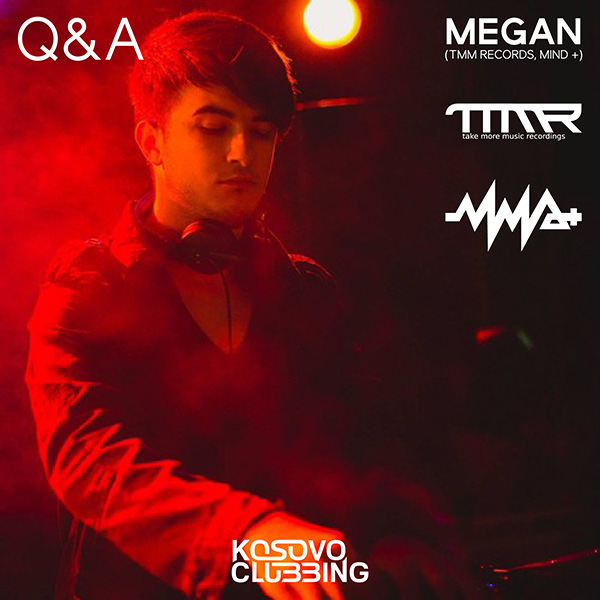 - Hi Megan, thank you for your taking your time to answers our questios. Can you give us a short introduction to you? When did your journey into electronic music started?
M: Hi, thanks for inviting me to do this, it's my pleasure. My journey, started when i was 15 years old. At the time, I was listening to some deadmau5, Richie Hawtin, Daft Punk and many others. I got really inspired and I found out that I have a big passion for electronic music in general. I also liked ATB, Tiesto and some other artists when I was just a kid and i found it interesting... so 6 years ago, my passion for electronic music started to evince.
- Your very first album 'Rooms Without Doors' released on TMM Records, is perfectly composed, satisfying & unique. What inspired you to compose that album?
M: 'Rooms Without Doors' represents the dark, rhythmic and deep side of mine, which I tried my best to tell in the tracks. I'm very pleased with the results and I got so much support from TMM Records, thanks to them. With this album, I wanted to show the sound that I worked on, these years and it really is like a story to me.
- What equipment are you currently using, for DJing & Producing?
M: For DJ-ing, i mostly use CD Players (Pioneer CDJ) or Traktor Kontrol S4 with a laptop. As for producing, i use headphones and Ableton Live. When i master tracks, i spend a lot of time working on the details as I'm only working with headphones, I'm really used to them.
- What's your favourite track to play at your gigs?
M: DJ Sodeyama – Miles Pt.2
- At the moment, at which artists are you keeping an eye on?
M: Recently I really like the sound of Markus Suckut, HVOB and of course an artist i really appreciate Boys Noize.

- What are your influences?
M: My early influences come from the local artists and my idols Artil, Chapi & Duqi. I've always loved their music and my biggest inspiration comes from them. There's also artists like Ben Klock, Marcel Dettmann, Tiga, Richie Hawtin and many others. My other influences, are based on things like nature, ambient and silence, by silence i mean my own thoughts. Just digging through my mind and thinking to create some new sounds that i never worked on, that's my source of influence.
- You had a lot of gigs around Kosovo, which one is your favourite?
M: Yes I played in many clubs, festivals in Kosovo and I had fun in every single one of them. Some to mention, are my set at the 2nd edition of Përralla and playing at MHZ Club in Prishtina, where i played for 6 hours.
- Do you like the electronic music scene here?

M: Well, it's good but there's lack of support in local artists. Promoters and events only look to bring big names here. Don't get me wrong, that's good but local artists are what makes this scene. Some of these artists are Artil, Mindbend, Nani Killa, Vegim & Flekitza.
- What can we expect from you in the future?
M: I'm working on so many EP's and other stuff right now and I will release music on some really good labels. Also collaborating with other artists, is what I'm focused on right now, just sharing ideas and stuff. I have a lot of music to show in the future which you'll get to hear soon.
- What's your message to your fans / Kosovo clubbers?
M: Explore electronic music as much as possible, not just techno and try to support your local artists more.
by Kosovo Clubbing