Q&A - Electrorites [Nightmare Factory Records, Shout Records, Structures Records, IT]
Italian techno DJ & Producer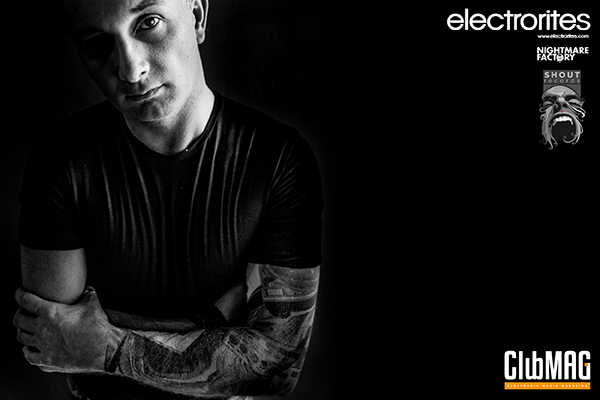 Italian techno DJ, Producer and label owner of Shout Records (2010) and of Nightmare Factory Records (2011)

Other labels:

AFU Limited, Amazone Records, Vector Functions Records, Drowne Records, Decade Of Techno, Morforecs, MFM Records, Blind Spot Music, The Zone Records, Onh.Cet Records, Naked Lunch, Amalgame Rec, Parallel 125, Mekanism Records, Hybrid Confusion, Steil, Frakture Audio, Freitag Limited, Clutch Trax, Refluxed Records, Reloading Records, Elmart, Technodrome, Crunch Control, Platinum Records, Pragmatik Recordings, Gynoid Audio, Achromatiq, Bass Assault Records, Elektrax Recordings, iDark Records, Label Code Records, Wicked Waves Recordings, We Call It Hard Records, Techno League Records, Darknet, ReWashed LTD, Sound Of Techno, Naughty Pills Records, Unofcial Records, Herzschlag Recordings, Seqtor and many more.
Q&A with Electrorites:
- Hi Electrorites, thank you for taking the time to answer our questions. Can you give us a short introduction to you / Shout Records / Nightmare Factory Records?

E: Thanks to you. My passion started 26 years ago. As an Italian techno DJ, i started to play 6 years ago in Europe. Later i also became producer.
In 2010, i launched my first label Shout Records and in June 2011 my second label Nightmare Factory Records was born. They are two different labels with different styles of music, but both representing a lot of great artists!
Last year was a great year, full of work with my labels, in the clubs and in the studio. I worked on my first album, Structures, which was released last September on my label Nightmare Factory Records. It was a dream, because you know, the first album is always something special.
- Your recently released track, "Spherical Geometry" on MFM Records, was impressive. What inspired you, to produce that track?

E: I don't know, when I'm in my studio i am in my own world; only me and my machines. I try to compose my emotions in music. "Spherical geometry" is only the result of that!
- What equipment are you currently using, for DJing & Producing?

E: When i play, i use my Macbook and 2 controllers (X1 or 3/4 cdjs). I really love to play with the pioneer 900 mixer.
In my studio i use: Audio interface by Universal Audio (Apollo 16), monitors (Adam A77X) .. Korg MS20, Moog SubPhatty, Virus T1, Creamware Pro 12 ASB, Waldorf Blofeld, Keyboards (Komplete Kontrol S64) and more….
- What's your favourite track to play at your gigs?

E: In my sets i really love to play new and old tracks. Certainly all Stigmata series are my favorites!
- At the moment, at which artists are you keeping an eye on?

E: There are a lot new interesting artists. Follow my labels and you will find out!
- What's your favourite: country / food / drink / color / quote / club / festival?

E: I think that all the countries are beautiful...I really love to travel.
Food: meat,
Drinks: Italian red wine and Rum
Color: Black
Quote: Life is the teacher
Club: Tresor
Festival: Awakenings and Nature One.
- Your key to success?

E: My Success is yet far. I have to work hard, the road is not easy!
- What's your advice for young DJ's & producers?

E: Believe in yourself and don't stop dreaming!
- What's your message to your fans / clubbers?

E: I am grateful to all my fans and to all the people that believe in me. I hope to keep doing what I love. I have many new projects coming up with my labels and as DJ Electrorites.
Listen to ClubMag's podcast with Electrorites:


by