Party review: Seth Troxler at Zone Club in Prishtina, Kosovo
words: Elvic Ibrahimović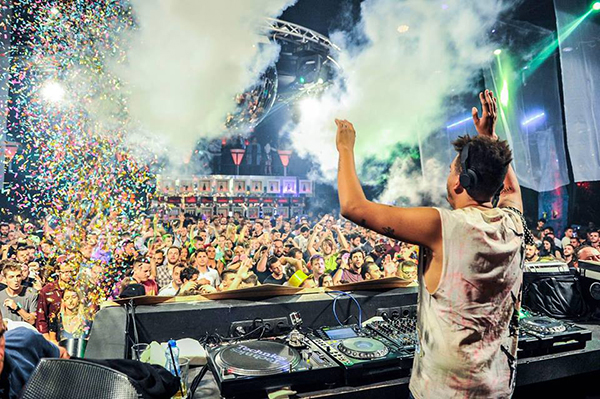 credits for pic: Petrit Rrahmani
Another weekend!!! And what a weekend! Great artists from Pristina's underground scene warmed up the dance floor of the Zone Club on Bajram. Then the brilliant Seth Trolex took away the playful mass with his melodic 7 hour set.

credits for pic: Petrit Rrahmani

My friends and I entered Zone Club at 2:30AM. We listened to tracks played by Secret 47 with Nappy G on percussions. An interesting performance for the electronic scene but successful. Half an hour later, at exactly 03AM, Seth Troxler performed for 4 hours on the enclosed indoor stage. Then the party was moved outside to the open air terrasse of Zone club.

credits for pic: Petrit Rrahmani

Seth Troxler played a further three hours from sunrise. Phenomenal experience! From 10AM, Uran B. (dj from Prishtina) spinned some great tracks for the audience who did not want to leave the sunny terrace of Zone Club. However, I did not stay until the end. It was enough dancing for me :)

credits for pic: Petrit Rrahmani
The sound system in Zone club was not so bad, I heard almost the same quality and volume of music throughout the club. Visualisation was solid. The space of the Zone club is fantastic. I didn't go upstairs to the second floor because I like to feel the vibes on the dancefloor in front of the dj booth. I love contact with people :)

credits for pic: Petrit Rrahmani
Suggestion to all clubbers at all electronic events, not only at this one, is: stay in one place, concentrate and listen to the music, dance to that music, feel the music. I hate when people push past me and bump me without even a "sorry" (or am I getting old?!) :D

Zone Club is phenomenal and has a diverse crowd. Its like "From Baha to Sevdah" :)
Thanks to Zone Club and Win Music Freedom for this organization, big thanks to my dear friend Fehmi and everyone for a wonderful friendship.

You are the best!!!
My next invasion in Prishtina will be on 15th of September to party with techno diva Rebekah, local support from Pristina includes: Vegim, Flekitza and Toton. The party will be held at ODA Theater in Prishtina.
This will be a real rave! :)
by