EVENT REVIEW: Euphoria lll — SNTS, Vegim, Flekitza, Liburn / Ferizaj / Uroševac, KS
Valon Hoxha and his NGO "Euphoria" from Ferizaj has been organizing music events dedicated to electronic music for two years in a row, giving special attention to the techno genre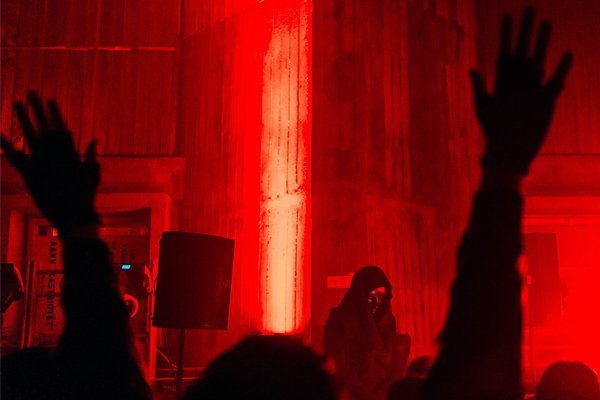 This year, Euphoria organized its third edition at a new location, in the hall of sports in Ferizaj/Uroshevac. Young people from Euphoria team made good changes in the sporthall, so the space for the event looked like a perfect underground club.
The sound was "flying" over the room, but it was hard enough to feel bass, while the lighting show played a very good role to feel every beat.
Euphoria keeping techno alive!
The event was opened by local DJ Liburn who played techno tracks for the first time in his home city. Although the set was full of long pauses, the audience was warmed up very well for the star of the evening!
The star of this techno evening was an anonymous techno producer, SNTS, who first appeared in 2012. with a mask on his face and thus remained devoted to the concept of anonymity in techno music. When SNTS arrived in Ferizaj/Uroshevac, he had a request to have only one person from the organization for dinner in order to remain anonymous. SNTS gave us excellent techno set at 137 bpm and the audience jumped out of happiness!
At the end of the evening, the DJ booth was reserved for Kosovo's techno duo Vegim and Flekitza. They are known for their unique selection of techno tracks, to bring audience to the ecstasy of love and dance. As always, a lots of shevers from their techno set on 135 bpm.

The audience was disappointed when after an hour of Vegim's and Flekitza's performance performance, the organizer, stopped the music, ended this long-awaited techno event, as it was said to us "by the arrival of the police due to the hight volume of music".
Once again, Euphoria from Ferizaj/Uroshevac has made a great contribution to support and make techno genre of electronic music alive on Kosovo.
We are expecting the next techno edition of Euphoria!
HERE you can see photos form Euphoria III edition.