RWIX: Artefakt LIVE, Keith Carnal, Vegim, Ivi Abazi | Prishtina, KS on 2. MAR 2018
Another unusual, conceptual techno event by "Hapësira"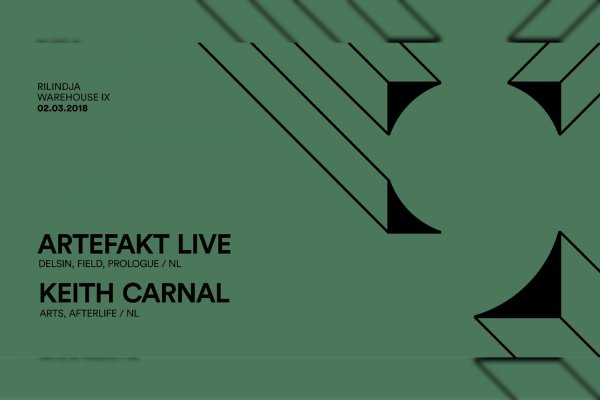 Dutch techno artists/compatriots, Artefakt & Keith Carnal, headlining the 9th edition of Rilindja Warehouse on 2. march 2018.


Since it's very foundation, "Hapësira" has been hosting unusual techno events, which of course took place at a unusual venue such as former "Rilindja" printing house, which is what makes it unique. Run by a different/unique concept, "Hapësira" gave a great contribution to our Electronic music scene.

While most of the clubs/event organizers here in Kosovo hosted top artists of the Electronic music industry and hard techno artists, "Hapësira" introduced blooming artists and showed Kosovo the other side of the techno (the pure/melodic/groovy techno) and by doing so, introduced new but impactive techno artists, like: Alex.Do, Hunter Game, Etapp Kyle, Anetha, SHDW & Obscure Shape, Somne, Abdulla Rashim, Acronym, Luigi Tozzi, Shlomo, Ness and Claudio PRC aka The Gods Planet because, as declared, instead of introducing top/famous artists, "Hapësira" introduces new/breaking through artists, to make them famous.


#LocalIsGold by Hapësira


The 9th edition of Rilindja Warehouse will, of course, take place at the former "Rilindja" but, in a different room from where the past editions of "Rilindja" used to take place.


On the night of Mar.02, "Hapësira" will bring together two of the world's most influental techno artists/compatriots: techno duo Artefakt with their live performance and Keith Carnal, followed by local artists, as "Hapesira" team likes to say, "local is gold"!

We just love their phrase :)


As we all know very vell, there's always a spot for local artists at "Rilindja Warehouse", which Hapësira refers to, with it's very own quote, "Local Is Gold".
This time, the techno artist is Vegim [ARTS, TMM Records].
The opening act has been reserved for Ivi Abazi [Sunight Records, EMT] from Albania, who is a first timer at Rilindja Warehouse and will be sharing the "Local Is Gold" spot with Vegim.
Ticket Info or Tickets
Pre-sale ticket Info for RWIX: Artefakt LIVE + Keith Carnal | Prishtina, KS
Phase II: 23.02 to 01.03 - 8€
Selling points:

- KS: Prishtinë (Dit' e Nat', Soma Book Station, Morena - since 1996), Prizren (Kafiç), Gjakovë/Djakovica (Gjurma), Ferizaj/Uroševac (The British Pub)

- AL: Tiranë (Radio)
Click HERE to have your Directions to RWIX :)
You can also follow vido "How to reach Ex-Rilindja Building" --> HERE