Jubilee edition of Lovefest in Vrnjačka Banja
This year's edition of Lovefest will be held from August 5th to 7th in Vrnjačka Banja 🤩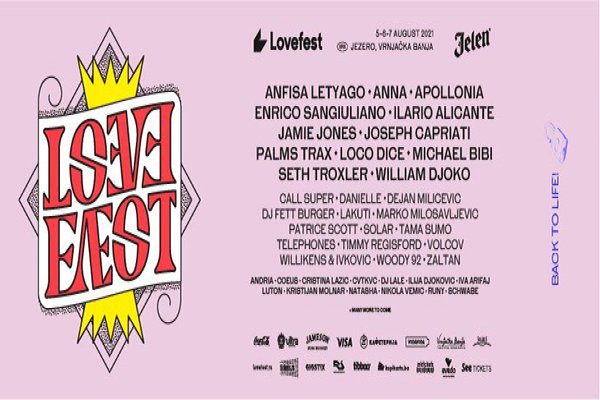 With respect to all epidemiological measures, the names of the domestic and world music scene will perform on five music stages 🥰
The quality of the selected performers is shown by names like Enrico Sangiulijani, Jamie Jones, Michael Bibi, Seth Troxler who will perform on the main Fire stage.
In the natural environment of the Energy stage, the most sophisticated underground, disco and soul sounds will be performed by performers such as Palms Trax, Call Super, Patrice Scott, Tama Sumo, as well as the legendary Timmy Regisford and many others who will have the opportunity to perform in three festival days, for the first time since the beginning of the epidemic 🥳
The slogan "Back to life" indicates the return of mass events, but the safe environment within. In accordance with the measures approved by the Government of the Republic of Serbia, and at the suggestion of the initiative "Safe Events Serbia", this year's edition of Lovefest will require a vaccination certificate, or a negative PCR test 😷
💶 The price of a regular ticket is 34 euros, which saves more than 60% compared to the regular price, and for the VIP experience at this stage, fans will have to pay 69 euros.
💶 Tickets for the 15th edition of Lovefest can be purchased at the Plur Agency in Kosovo.
See ya at LoVe fest :)