Coconut Oil Pulling Benefits & How-to Guide
Pulling oil is a method of solving toxins from the whole body. Daily pulling of unrefined, cold-sprinkled sunflower, sesame, oregano or coconut oil, pulls out all toxins from body through salivary glands.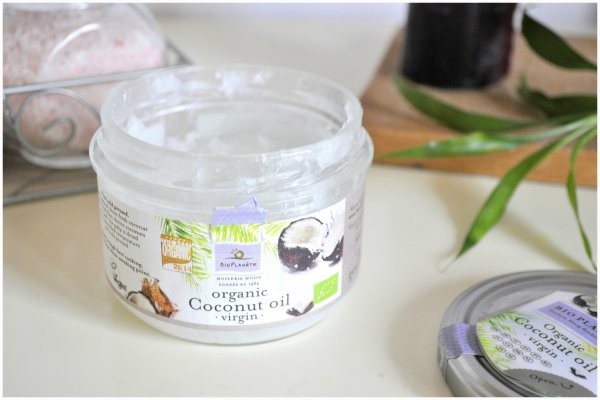 Pulling oil treats many diseases and disorders caused by accumulated poisons in the body. Oil therapy can last from one month to three months, depending on the problem. Pulling coconut oil can be applied daily, whole your life.

How to - Coconut oil pulling
First thing to do in the morning is pulling oil in your mouth, immediately after you get out of bed and before you brush teeth or drink something. Start with a small amount of oil, so gradually increase the amount. I used very little oil at the top of little spune, because pulling increases the amount of oil in my mouth :) Put the oil in your mouth and start pulling oil between your teeth for 10 to 20 minutes. be sure you do not swallow the oil.
Do this slowly to avoid tensing jaw and cheeks. Is not easy to!
Mixing oil in mouth, we release all toxins from body through salivary glands that enhance their function and excrete toxins.

After 10 to 20 minutes, sprinkle oil in the toilet becapouse oil can block your drain, rinse mouth with hot water, and after normally wash your teeth with natural toothpaste. (DIY How To Make Your Natural Toothpaste)
Ulje koje smo mućkali treba biti prozirno, što je znak da je dobro promućkano. Za one hrabrije, dovoljno je samo oprati usta toplom vodom ne koristivši pastu za zube jer smo ih već "oprali" kokosovim uljem.

Treba da znate, da je potrebno nekoliko minuta da se naviknete na neugodan osećaj ulja u ustima :) ali samo nekoliko minuta, kasnije ćete jedva cekati na mućkanje ;)

Već nakon prvoga dana primetićete da vam je usna duplja čišća.

Ali trebate da imate disciplinu koja je potrebna za postizanje rezultata. Možda zvuči lako, ali mućkati do dve kasicice ulja u ustima do 20 minuta neće moći svako da postigne :)

Istraživanja tvrde da je kokosovo ulje dovoljno za održavanje higijene zdravlja usne duplje i zubi.
Kokosovo ulje ima puno dokazanih lekovitih svojstava.
Kokosovo ulje posjeduje snažno antibakterijsko svojstvo koje u ovom slučaju uništava štetne bakterije i otrove u našim ustima.

Rešava karijes, jačamo desni, izbeljujemo i učvršćujemo zube, rešava probleme paradentoze.

Sadrži puno vitamina:

* vitamin A koji je dobar za imunološki sustav;
* vitamin E koji ima snažna antioksidacijska svojstva i može pružiti zaštitu od UV zračenja;
* vitamin D koji je dobar za jake kosti i zube i
* vitamin K koji je dobar za zgrušavanje krvi.