Boiler Room Glasgow – Soma 25 w/ Slam, Rebekah, Clouds, SHDW & Obscure Shape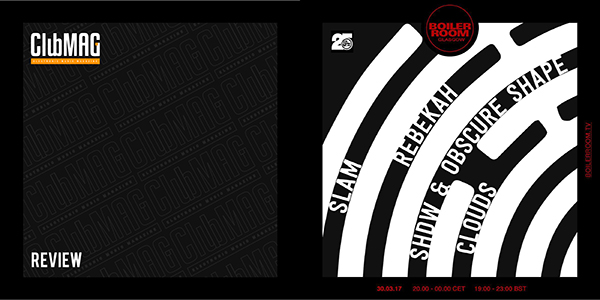 Soma Recordings is a Glasgow-based techno and house label co-founded in 1991 by the electronic music duo Slam. Now in its 21st year, Soma has a reputation for consistent excellence in the record industry, continually releasing quality electronic music. Soma is regarded as one of the top UK independent record labels, and one of Scotland's best musical exports.
To date Soma has released over 300 singles and 100 albums from international acts such as Slam, Silicone Soul, Funk D' Void, Alex Under, Gary Beck, Pig & Dan, Vector Lover, The Black Dog and many more.

Line Up:
Clouds [Turbo, Soma / UK]
SHDW & Obscure Shape [From Another Mind, Afterlife / DE]
Slam [Soma / UK]
Rebekah [Soma, Elements / UK]

In celebration of it's 25th anniversary, Soma Records hosted a party at Boiler Room Glasgow w/ Slam, Rebekah, Clouds, SHDW & Obscure Shape (first apperance debut). The night started with a DJ Set from Clouds, followed by SHDW & Obscure Shape, Slam & closed by Rebekah.
4 hours of utmost energy, proper techno by above-mentioned artists, followed by spectacular visuals & an educated crowd of techno lovers, were satisfying & reflected pleasure.
by ClubMAG